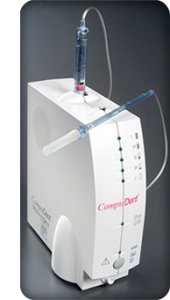 Computerized Local Anesthesia | Dentist in Beaver, PA
We want you to have a positive experience each time you visit our dental office, and we understand that many of our patients are fearful of the dentist. Our goal is to help you overcome this fear and learn to love taking care of your teeth as much as we do. We utilize a special, computerized local anesthesia system called a CompuDent®. CompuDent allows us to provide painless, efficient delivery of anesthesia for your safety and comfort. The wand used with the CompuDent system also gives our caring dental team more control for superior anesthesia placement. With our computerized local anesthesia in Beaver, Pennsylvania, you no longer have to fear coming in for cleanings, fillings, or dental crowns. We work hard to assure you are comfortable throughout the entire treatment process.
For more information, we invite you to view the video below, where we show how we use the CompuDent to create a pain-free area in the mouth. For this and other dental videos, please visit our YouTube page. If you have any questions about computerized local anesthesia, CompuDent, or any other of our dental treatments, please contact our dental office today at 724-775-4860. We are eager to help you achieve a healthier, more brilliant smile in a comfortable, relaxing environment!